Yay Valentine's Day! He sent me edible arrangements :) He is so adorable he listened! I was talking about how cool they are, and that I wanted to send my friend one. He got me "sugar free" chocolate dipping sauce since I have been talking about eating healthy. He is so cute, and it was SO gorgeous. <3 love love love <3
I had to take it apart to get it home, but I took TONS of pictures.
Lets see if Blogger works this time. Well, its not letting me upload pictures...I'll try photobucket..
.grumble
I am proud of me, only 5 chocolate covered strawberries! (thats where 10% of my non-vegan diet comes from I am pretty sure)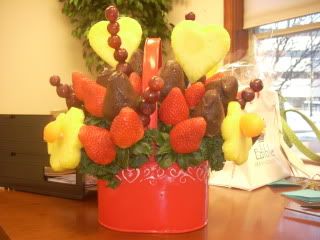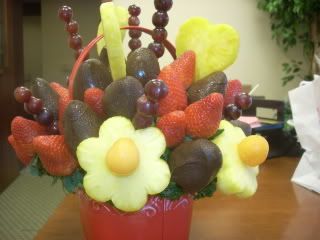 On another note, PT guy says I have to stop running so much. I only ran a little over an hour
total
last week. *sigh* back to the yoga drawing board. He has me incorporating some awesome moves though. I might try cross country skiing with the dog this weekend, there is a part of the ice age trail we hike, but hiking apparently is very similar to running :-\ Maybe if it isnt swollen next visit he will let me run! *Goal!*
I am still in love with PPK. They have this new book out with vegan cookies? I might try the
chocolate peanut butter pillows (link)
this weekend. I love my sexy man, and he has been putting up with a lot, so I was thinking to "thank" him with an envelope of baked goods. Besides, I can't keep them around when they look so good!