Oatmeal
there have been so many times when I talk to someone about my love for oatmeal and they look at me like I am crazy.
What with SALT?!
You go to the store and its maple syrup this, apples and cinnamon that, and plain. Why not a sun-dried tomato corn option? Anyway- I also love how it thickens soups! Today I discovered a new favorite for lunch: 90% kale, cauliflower, a scallion, 2 tsp minced garlic, salt & pepper, 2 tbs oatmeal= a.m.a.z.i.n.g.n.e.s.s!
Garlic and oatmeal
. Go ahead look at me like I'm crazy ;)
V-day adventures
Vegan chili pizza
, we made our own crust- made all the difference!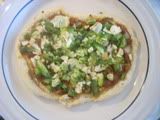 Chocolate peanut butter pillows
(from the PPK advertised book) The boy toy likes crunchy peanut butter, which I didnt have, but I had peanuts, so I adorably put one whole peanut in the center of each!
too cute
:) whoever commented on the PPK to freeze the centers before attempting to roll in the chocolate was so right! I even had to take a break from rolling the chocolate part bc my hands got too warm!
snow hiking
last- but not least, the dog and I had to go hiking bc I couldnt find the ski boots, but the trails are super gorgeous and the workout is great with all the snow! Its just that she's figured out now, that since the water is frozen, she can run across
the creek .. and onto the road! Doh!